Managing Director : Mr. Aye Min Oo – Sonny
Memberships :
Joint Secretary, Myanmar Hotelier Association, Myanmar Tourism Federation.
Member of Union of Myanmar Chamber of Commerce and Industry (UMCCI).
Member of Myanmar Computer Industry Association (MCIA)
Member of Union of Myanmar Travel Association (UMTA)
Responsibilities
Chairman, Tourism Myanmar Co-op Ltd.
Managing Director, Design Printing Services (D.P.S) Co. Ltd.
Contact Address
No. 165, 35th Street, Kyauk-ta-da Township,
Yangon, Myanmar (Burma)
Tel : 95 1 204020.
Tel/Fax:95 1 245230.
Email: sonnyamo@gmail.com
Internet:, https://www.dpsmap.com
Who We Are
Design Printing Services Co. Ltd.
Design Printing Services (DPS) Company Limited - - incorporated in 1995 – published its landmark Map of Yangon a.k.a "Street Directory of Yangon" in 1996. At that time, the government is the only organization which prepares and maintains those maps. Normally they do it by hand and very difficult to update. Moreover maps from the government are not readily available. D.P.S started digitizing the map of Yangon (Rangoon) from British era maps. Then it acquired Intergraph's Geomedia software along with IRS Panchromatic satellite imagery from Intergraph. The satellite scenes are geocoded using Trimble's Pro XR gps and then digitized by D.P.S. D.P.S also developed Yangon GIS data warehouse complete with streets, schools, clinics, government offices, water and river, and last but not least – a Business Database. Our strong point is thus in creating and updating GIS database – digitization and data entry, GPS survey and map publishing. We have also developed Vehicle Tracking System using GPS and Compatible maps to manage transport fleets.
Our staff
We have 1 GIS specialist and 3 full time map surveyors who are updating Yangon and Myanmar maps. We have undertaken Data Entry Project for TCG starting with Post Nargis Joint Assessment Data Entry and Periodic Review Data Entry.
Aye Min Oo, who started the publishing business on Digital Mapping and Street Directory in Myanmar 20 years ago, has been in charge of Design Printing Services (DPS) Company Ltd. Interview with CEO Myanmar Magazine about our experiences in the service and services provided by DPS since its establishment in 1994.
How we started DPS
We started to get good maps in the market. Before he started his own business, he worked for the Royal Dutch Shell (Oil indsutry company) and worked on digital maps. Then I went to Singapore to study for my own printing business. At that time, the study of printing was called the Color Separation, and it was founded in 1994 as Design Printing Services in Myanmar. After studying in Singapore, I discovered something unique that would be called Technology Turning Point of the day. This is when you create maps, and you create them with Mapinfo. But when it was really smooth I drew it with Corel DRAW at the time. The main problem is that when printing maps, color printing and printing techniques can be used. There is no machine. At that time there was no Myanmar. What you find in Singapore is that you can see how the Color Separation works by using Corel DRAW.
Their path has since begun (on the map). We go to the picture we made here and give them a try and give them a try. They made a four-color film and sent it back here. There, Quality appears as it appears on the computer screen. Back then, the screen on the computer screen was not printed.At that time, the map was able to print Quality on your computer in four colors. Drag it as you would on a computer. It can only be issued when it is satisfied. This technology also came with the start of 1996's "Visit Myanmar Year", so let's get started with a map map for tourists starting today.
Responsibilities of Mr.Sonny as a chairman of DPS
As a DPS strategy, we take the left-hand direction. Because there are now businesses like Google and MIMU, There are also free maps and free access to your services. The question is, is there a beginning? The maps, which were difficult to obtain in the epochs of the past, have been quite easy and the data is quite easy to obtain, and the data is gradually getting easier as we gradually get to the point. I always think about those parts and look at the trends and decide which ones to do. In the office, Sale and Marketing is the main thing. I hand it to myself. In the Marketing Strategy, it's now slowly getting online. We are working on an online strategy.
DPS Strategy
Since then we have been working on the motto "Best Guide in Town". In Myanmar, we are trying to become a leading company in data mapping.
The Services of DPS
We collect companies data on the map of all their distribution stores, including retail outlets (including grocery stores and supermarkets). (So companies can look at whether or not a car that they send out when distributing). Location: Another is shop maps. There is one address and one address. You can add items for sale. You can also add sales. Since then we have been working on The Best Town since. The best-selling shops will appear on the map. You can copy the map to another computer and compare the sales of the previous month and next month. You can also show year-round text at one of these locations. Then we train our clients as a standalone service. We collect data.
We are now using GPS Tracking. Tracking the car and then disappearing. Stealing or stealing will appear on the map. The question is, now that some home resellers may need some information. For example, we will survey the demand for Yangon city. Then we photographed the cameras and buildings. This combines the data they provide and provides the information that companies provide to them. They are using them and using them. More and more cities are asking for it. These are also services.
The Data Collecting Progress
In the past, the time has come for the business to be different. But the basics continue. There are many parts to the business model. In the past, not many people appreciated the map of GIS. So we take care of that. I bought an Indian satellite. At that time, the satellite skyscraper was about five times brighter than what is currently seen in Goggle. This is just a picture of Yangon's streets. There are no street names in the picture. But there is a way. This satellite image is compatible with GPS. So, people have to identify street names. But the GPS came to mind, and this time it was back in satellite mode, so the satellite's name was clear. From there, I created and published books. The Yangon City Development Committee was later supported by YCDC. Now the roads have changed a little bit. Every day, I take a daily survey to find out when to make changes. I have never stopped today. I'm walking down the street. At that point, the data was collected in cooperation with the post office under the Ministry of Communications.
We collect data with the community administrators. Also, you go to your own city and take a camera and collect data. And then we put each home address on the map. In every other state, there are huge maps issued by the government. It was initially based on these. Later, when the satellite images came out again, they were developed based on these. There are several ways to get updates. People go to these places. They have been asking for these photos since the previous government. I asked for it and took care of it. Sometimes, houses do not provide the correct address. Then, will the post office be purchased? Should I get it from the Township Administrator? You have to decide for yourself to look down and see.
Most notably, since the cyclone Nargis, foreign companies and companies have been affected. When NGOs come in, they need maps. We also came to ask for our company. Among them is the NGO MIMU (Myanmar Information Management Unit). The group called us and asked them to translate the maps into English and Burmese, so our team went to work together. At that time, the Home Ministry issued a series of tallies stating when and how the village was set. All of these releases are then typed in and the MIMU is typed into GIS on the computer. And so the data in the map is taken from the MIMU. We also return them to Data of Counties where MIMU is not available. It's like doing a data exchange.
The Challenge for DPS
Now Google is slowly emerging as a way of specializing people with Maps. But now Google searches for your home shop, not even the big shops. We must not escape. After that change, you will be adding the changed data. We go through this process every year once a year, and the only thing we have is the photographic evidence.
Then technology is very fast. It is increasing. It is very difficult to organize the data that is really big and it is very difficult to prepare for such big data. If one wants this, then all of us are doing that, and then there's something else. But what else do we have is that the data is collected. But it is a real challenge to plan to avoid such data.
What's the Market Needs And Wants ?
Now, the big companies that specialize in mapping are collecting the map of how many countries they have completed. Google is gathering there, too. Google says it updates users only because it is so popular. No extra charge. Other companies have repurchased the map. Some car companies already in Burma have not been able to map in the car until now. If these companies ask us to put them in the car, then the market of the map will be its market. What we usually sell is to use our map only on one computer. So, how much do you sell? But when that happens, we renegotiate them for a lot. The market is huge. For example, the data of all these cities is hundreds of thousands of dollars. And these things they have to sell. And, in our market, we are affected by Google. The downside is that when everyone gets free, we just print and use Google instead of our maps. But on the other side of the issue, the businesses I'm talking about can't use Google Images. Copy-right So if you want accurate data, we have to use the map.
Preparing For The Future of DPS
We're going to do the Location Intelligence ahead. Each location is made up of all the data you need. If a car was driving one way at a time, how wide would it be and then how fast would it be? Look at the signboard. Which turn? This data is expected to be helpful if driverless vehicles are coming. The purpose of this is to collect data.
For the future, we are constantly studying trends. Now what we have found is that E-goverment is coming soon, so there is a great need for accurate data on the ground. We want to provide E-government solutions to companies that come to them. But they have no data. Even if there is a unified list of individual data, it is impossible to work together.
We also see this as a need, and we are going that route. This will collect as much data as possible. And then it's intended to be used for planning. We will collect all the addresses as we move toward the level. So if you send me a postal mail, We have all the contacts we have. When you enter a mailing address on your computer, you can show it on the map. Google can't do that right now. The MIMU can't. We are making it available to us.
In March 1994, Design Printing Services Co, .Ltd. Established. It is a Myanmar-owned company. There are 54 permanent staff in operation.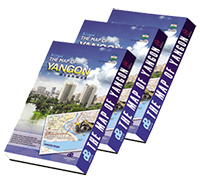 The main business activities are maps. With the guidance of the Ministry of Hotels and Tourism, the Tourist Map maps are based on foreigner arrivals to Myanmar, each year and more than 40,000,000 are printed and circulated freely in the Tourist Industry.
The main business activities are maps. With the guidance of the Ministry of Hotels and Tourism, the Tourist Map maps are based on foreigner arrivals to Myanmar, each year and more than 40,000,000 are printed and circulated freely in the Tourist Industry.Since 1998, the Map of Yangon-Street Directory has been distributed in partnership with the Yangon City Development Committee four times.
Since 1998, the Map of Yangon-Street Directory has been distributed in partnership with the Yangon City Development Committee four times.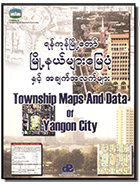 * Since 2002, a map of each township has been published in collaboration with the Yangon City Council for easier access to the map of Yangon.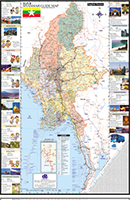 * To use Myanmar Map Map (Myanmar Version & English Version) to get accurate knowledge of Myanmar map and to learn about its geography. Published mainly for both office and commercial applications. Government Departments Donations have often been made for education and border development libraries.
Objectives of DPS ( Mission and Vission)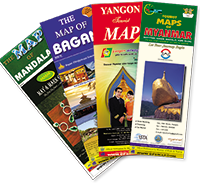 In line with DPS's motto, "Your Best Guide In Twon", it aims to broaden the use of public maps and contribute to the growth of tourism. DPS is providing a "Map Mapping Needs" field for the state, with no focus on profits. Design Printing Services (D.P.S) has been established since 1996, attracting foreign tourists, tourists and tourists. Tourist Guide Map has been issued for local businesses. The Tourist Guide Map has been distributed to over 21,000,000 copies in four varieties. Tourist Guide Map is a great map for tourists to spend time in the city in Myanmar. The maps were taken from government ministries and government offices; International embassies in Myanmar; Foreign Embassy Myanmar Embassy International organizations; Airline & Travel Services (Yangon, Mawlamyine, Bagan, Nyaung Oo) International Airport Arrival Hall & Local Departure Hall, Mandalay TaDa U Airport & Nyaung U Airport are held annually.
Trusted By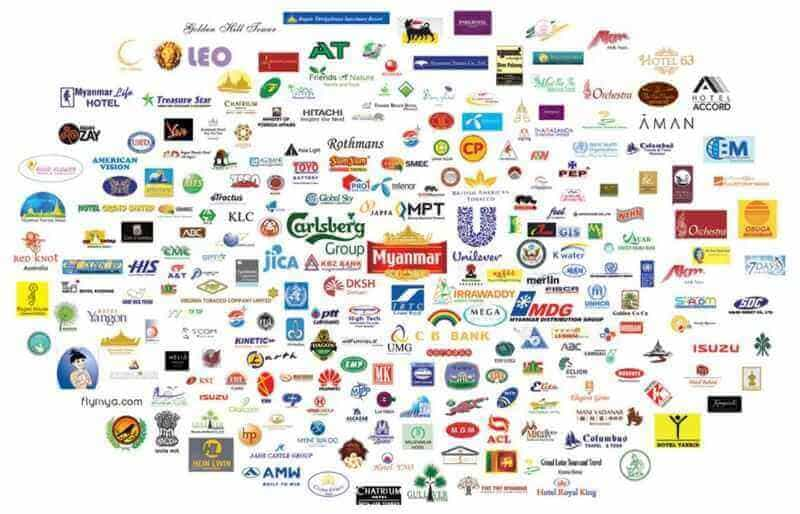 DPS is also dedicated to promoting Myanmar tourism overseas. It has been producing complimentary guide maps on behalf of Ministry of Hotel and Tourism and funded by private companies through advertisements. DPS has been going overseas travel shows and trade events such as ITB, ITA- International Travel Asia in Hong Kong, Myanmar travel show - Bangkok, Thailand, International Trade Expo Kunming China.
DPS is always updating its Yangon and the whole Myanmar database and always looking for opportunities for mutually benificial business partners..
CONCLUSION
We are the pioneer in Digital Mapping and Street Directory in Myanmar. We are looking forward to gain wider market in business data warehousing. We currently are creating Retail Shop Database for Distribution and manufacturing companies. We are also developing Vehicle Tracking System for the vehicle to monitor fuel consumption.
Yours truly, Mr. Aye Min Oo – SONNY
Group Managing Director
DPS Group of Companies
If you want to contact us, kindly fill the form below.